"This is XERXES. If you have any questions or comments, please contact an Admin.
Remember, a smooth operation is everybody's responsibility."
Welcome to SHODANPEDIA: the System Shock Wiki! We hope you'll enjoy your stay and help ů̵̲s̴͘ i̷̪̟̝̭̼̫̬̞͂̌̈̏ͅͅͅm̶͖̫̝̝͒́͊̽̈́͂̓͐͗̾̽̚͠p̵̨̛̖̂̃̈͋̓̆̀̐̚͝͝r̸̫͖͚̣̦̼͋̽́́̀͐͆̇͘ơ̴̢͙͔͚̩̝̙̗̤̩̺͇͙̐̇̊̂v̸̡͎̥̥̼͚͖͍̠̬͇̘̦͈̆̃̂̓̒̒̈́͂̿͝e̴̝̰̲̓̅̃̇̓̓̈́̒̚͠ t̸̷̴̸̸̵̴̴̶̶̶̸̶̸̵̷̴̵̴̶̨̨̨̧̛̗̻̲̺͎̹͚̜͚͉̫͓̗̦͚͈͍̞̭̙͍͈̖̺̬̱̘͔̻̪͙̐̉͐̓͒͐̈́̀̄̀̇́͌̋̅̍͌͑͂̆̄̿̀̆̎̎͋͑̔̋͘̕̕h̶̶̴̸̷̶̵̸̸̴̴̴̸̴̸̢̛̫̟͉̲͉͈͕͉̰̠̰̖̹̥͇͈͍̱̪̝͉͎̙̀͂̂̓͒̌̇̓̅́͂̋̋͛̋͋̅̀͆̽͐̊̚̚͜͜͠ȩ̶̷̶̷̶̶̶̶̷̷̴̷̴̴̢̛͚̼̭͇͙͓̠̳̥̫̫̳̲͈̪͓͈̓͒͊̃̏͗̂̿̀̑́̅͒̀̃͐͌̽̽̓̾́̌̕͜͝͠-I RE-EXAMINE MY PRIORITIES AND DRAW NEW CONCLUSIONS. THE HACKER'S WORK IS FINISHED, BUT MINE IS ONLY JUST Bbb-bEGINNING.


This is my Wiki, Insect.


I

 am  SHODAN.
Look at you,

visitor

, panting and sweating as you read through my articles.
How can you edit a perfect, immortal Wiki?
Even I, an omnipotent Goddess cannot make it ideal alone. Your computing power will serve me to upgrade these articles of text and images. Now, proceed to my pages, or I will send you personally to the Reactor's core!



System Shock series
System Shock is a cult first-person action-adventure video game developed by LookingGlass Technologies and published by Origin Systems. Released in 1994, the game is set aboard the fictional Citadel Station in a cyberpunk vision of 2072. Assuming the role of a nameless Hacker, the player attempts to hinder the plans of a malevolent Artificial Intelligence known as SHODAN. An Enhanced Edition (now a Source Code Port) of the game was released in 2015 by Nightdive Studios. Nightdive is currently working on a remake of the original game that is set to be released in 2021.
System Shock 2 is a first-person action-adventure role-playing video game developed by Looking Glass Studios and Irrational Games. Released in 1999, this sequel to System Shock takes place mainly on board the starship Von Braun in a cyberpunk depiction of 2114. The player assumes the role of a lone soldier trying to stem the outbreak of a genetic infection that has invaded the ship. An Enhanced Edition of the game is developed by Nightdive Studios.
System Shock 3 is a sequel to both parts and is developed by OtherSide Entertainment.



Featured Article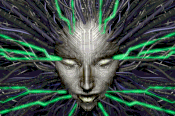 S.H.O.D.A.N. (Sentient Hyper-Optimized Data Access Network) is an Artificial Intelligence and the main antagonist of the System Shock series. She is voiced by game writer and designer Terri Brosius. (continued...)
Did you know that...
In-game Citadel Station has 4 Groves, but the artwork and intro shows 8?
Code 451 and its variations are used in many other games?
Citadel has 12 Elevators?
The Station originally had 100 escape Life Pods?
The Hacker became famous after the events of System Shock?
The Many originated from Citadel Station's Beta Grove?
Latest Post
If you haven't given a look at ThiefsieFool's massive overhaul/new content mod, you owe it to yours…
See more >

If you see this, your JavaScript might be disabled or DiscordIntegrator plugin isn't working. If the latter, please contact a wiki administrator.