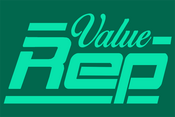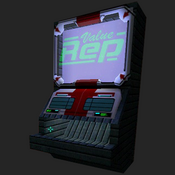 "

Thank You for Choosing Value-Rep!

"

~ Replicator
Value-Rep Nanite-Based Matter Replicators allow purchase of various items using Nanites. These devices offer a wide variety of products, ranging from snacks to ammunition.
When interacted with, the Replicators show the price and the name of each available item. The current balance is shown at the bottom. Choosing the product you wish to buy subtracts a specific amount of Nanites from your account, replicates the object and drops it down the hopper, from which it can be picked up.
Hacking the Replicators lowers their prices and in most cases, allows the production of restricted, better-quality items than those normally available at a given machine.
Locations
Trivia
William Diego has a unique, wrist-mounted variant of the Replicator.
See Also
Community content is available under
CC-BY-SA
unless otherwise noted.