The department of Security is located on Level 8 of Citadel Station, the ninth and penultimate explored in System Shock.
Overview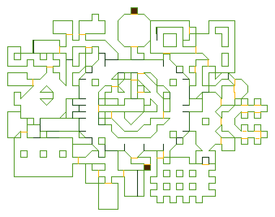 The most notable feature of this Level is the towering central core shaft, which rises over eight stories high. Citadel's detention facilities are located here, and can hold over forty lawbreakers at a time. Corridors are lined with bright red carpet and black marble tiles. This level also has a banquet room, and a robot charging station.
SHODAN has created a fortress here, with energy-drain mines for defense, and Diego Cyborg CY-001 and his minions awaiting the Hacker's arrival. A Command Access Card to the control room can be found here as well.
Enemies
Logs and E-mails
Audio Logs
Weapons and Items
New Weapon

New Hardware Attachment

New Access Cards

Group-B Access Card
Command Access Card
Personal-5 Access Card-Diego
Cyberspace Items
Security Defense Mine
Game - TriopToe
Switching Node - Detention cells unlocked
---
System Shock Locations

Citadel Station


Level G1 - Alpha Grove
Level G2 - Beta Grove
Level G3 - Gamma Grove
Level G4 - Delta Grove

Level 8
Security

Earth

New Atlanta