Systems Engineering is the Level 7 of Citadel Station.
Overview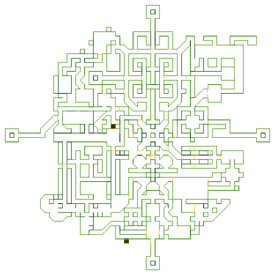 The level contains many of the Station's support and communications systems, including the primary antenna relays. This level's subdued, brown-yellow color scheme and cramped corridors add to its techno-industrial atmosphere. It is also the last level with a working Surgery Machine.
System administrator Willard Richie's office is there, with an essential log.
Enemies
Logs and E-mails
Weapons and Items
| | |
| --- | --- |
| New Weapon | New Hardware Attachments |
Trivia
The autobomb chute actually produces Autobombs even on Combat 0. This may very well be the only respawn on the lowest Combat difficulty in the game.
---
System Shock Locations

Citadel Station


Level G1 - Alpha Grove
Level G2 - Beta Grove
Level G3 - Gamma Grove
Level G4 - Delta Grove

Level 7
Engineering

Earth

New Atlanta