Executive Suites and Crew Facilities are located on Level 6 of Citadel Station.
Overview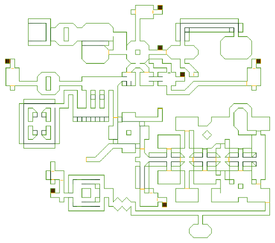 This level sports a number of teleconference and board rooms where TriOptimum executives can conduct business with their Earth counterparts. Lavishly decorated with beige, blue, and black tiles and red carpeting, this level is designed to offer a stress-free professional environment. To further this goal, the Level provides sole access to the station's lush, green nature groves (Alpha, Beta, inacessible Gamma, and Delta). Also featured on this level are dorms and a theater.
Quadrants:
Alpha quadrant contains the main banquet hall and conference room.
Beta quadrant houses the living area and dorms as well as Diego's shrine with the Jettison Enable Master Control. Beta Grove is locked but can be unlocked by a cyberspace toggle, or a button found in dormitories.
Gamma quadrant is under construction.
Delta quadrant is a mercantile area with shopping facilities.
Enemies
Logs and E-mails
Weapons and Items
New Weapon

New Hardware Attachments

New Access Card

Administrative Access Card

New Entertainment
Cyberspace Items
Data - Executive
Data - Engineering
Pulser Combat (2)
Switching Node - Storage closet unlocked - I.D. Edward Diego
​Information Node - Info-node data corrupted
Security Defense Mine
Data Fragment - Gamma quad in exec level now property of Edward Diego
Switching Node - Beta grove elevator unlocked
Game - Eel Zapper
Trivia
---
System Shock Locations

Citadel Station


Level 6
Executive

Level G1 - Alpha Grove
Level G2 - Beta Grove
Level G3 - Gamma Grove
Level G4 - Delta Grove

Earth

New Atlanta
Community content is available under
CC-BY-SA
unless otherwise noted.