The
Research
Laboratories are contained within
Level 2
(or
Science
Level) of
Citadel Station
,
the second explored in
System Shock
.
Overview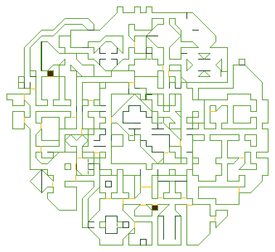 This level is responsible for the production of many prototype technological developments, and the eastern quadrant houses an extensive electronic library as well as Admin Security. The Laser Control Center for the station's mining tachyon laser are also located here. This level can be identified by its vibrant red and white walls.
Enemies
Logs and E-Mails
Weapons and Items
New Hardware Attachments

New Access Cards

Science Access Card
Group-4 Access Card
Engineering Access Card
Group-3 Access Card

New Dermal Patches

New Tool

New Key Item
Cyberspace Items
Terminal 1
Terminal 2
Commandos prepare to move to Level 2 core
Security to Level 2 computer nodes
Trivia
---
System Shock Citadel Station


Level 2
Research
Community content is available under
CC-BY-SA
unless otherwise noted.