Hospital (or rarely Medical) is Level 1 of Citadel Station and the first to be explored by the Hacker in System Shock.
Overview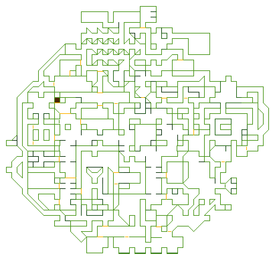 This level contains a highly advanced neurosurgery ward (Healing Suite) with a functional automatic Surgery Machine. Medical areas on the Station are easily identified by their blue/green walls and advanced treatment facilities. Six months after their Neuro-Implant surgery, the Hacker awoke here within the Healing Suite.
This level is separated into four quadrants:
Alpha is home to the Station's main cyborg production facility. A red catwalk leads to an area where SHODAN constructed a conversion site to transform the human survivors into cyborgs.
Beta is largely offices and labs. Nathan D'Arcy's lab office (containing an important Audio Log and his Personal Access Card) is located there.
Gamma contains an emergency armory and maintenance areas.
Delta contains several multi-purpose rooms, one with a Cyberspace Terminal,
and can be reached by an Elevator off the hub.
Enemies
Logs and E-Mails
Weapons and Items
New Weapons

New Explosives

New Hardware Attachments

New Access Cards

Standard Access Card
Group-1 Access Card
Medical Access Card
Personal-1 Access Card-D'Arcy

New Dermal Patches

New Tools
Cyberspace Items
Level 1 elevator taken off line - SHODAN security block established 04.NOV.72
SHODAN security presence controlled by CPU's and maintained by security cameras
Data Log - Hospital
Data Log - Code Data
Switching Node
Hospital level security doors opened
medical security door lock
Trivia
In System Shock 2's final level, soldier travels through a partial re-creation of this area, manifested from SHODAN's memories.
Level 1's name is Hospital. The alternative Medical name is used very rarely in the game scripts and the manual.
Gallery
---
System Shock Locations

Citadel Station


Level 1
Hospital

Level G1 - Alpha Grove
Level G2 - Beta Grove
Level G3 - Gamma Grove
Level G4 - Delta Grove

Earth

New Atlanta