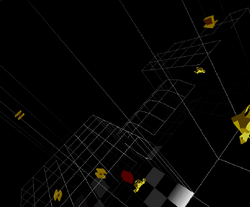 "

If you don't count sleep, which is really just a waste of time anyway, I've spent over half of the last year of my life jacked in. I don't care what the idiot doctors here say. I get enough exercise; the current from my neural interface keeps my muscles stimulated. I don't like that corporate priest, either. I don't care if there's a heaven or hell. When I die, I just want my body to fade away. It's a prison anyway...

"

~

Spectre

,

Citadel

Cyberspace Technician VII
Cyberspace, also known as "C-Space" or the "Net", is a digital realm where all computers communicate and store data.
Overview

Special electrodes grafted into a
Neural Interface
let users "jack" into a
Cyberspace Terminal
of a computer network. The user's neurosensors translate the data structures of a computer network into a surreal visual simulation, which the user can navigate to access data, open electronic locks, and otherwise manipulate the system.
Hackers infiltrate specific areas in Cyberspace owned by companies, governments, or individuals with intent to steal or alter information. Time is of the essence for unauthorized users as hunter-killer routines are tracing for their location, disconnecting them from the Net after a few minutes. Watchdog security programs prowl Cyberspace for any foreign presence, attacking it. If a user's software integrity (Cyberspace health) runs out as a result of these attacks, his Net link is broken and he is ejected from Cyberspace, fatigued and injured from the shock.
The Net of the Citadel Station is divided into three primary realms - Research, Military, and the Security platform that houses SHODAN.
Appearance
Cyberspace represents the aggregate of all computer network traffic, which cannot ordinarily be seen. A neural interface can translate this world of 1's and 0's into an immersive hallucination where important programs manifest as floating geometric shapes in immense rooms of glowing wireframe. Hallways between rooms represent rivers of data between nodes, which drag the user along in digital currents. Corporations have their own guarded logo-like icons within which their data is stored.
Objects
Security systems
Software
Trivia
While Cyberspace doesn't appear in System Shock 2 the same way as in appears here, it does make an appearance in the tutorial levels as well as in the level Where Am I?
Cyberspace has its own logo in the game files, but it doesn't appear in game.
Optional mouselook steering introduced in System Shock: Portable makes the Cyberspace navigation a little bit easier and more intuitive, even though the turning speed is still limited.
Community content is available under
CC-BY-SA
unless otherwise noted.